Prufrock Coffee: Old School Vs New School
Visiting Prufrock Coffee on Leather Lane to experience two state-of-the-art espressos; modern style on modern hardware, versus classic Italian style on restored vintage hardware.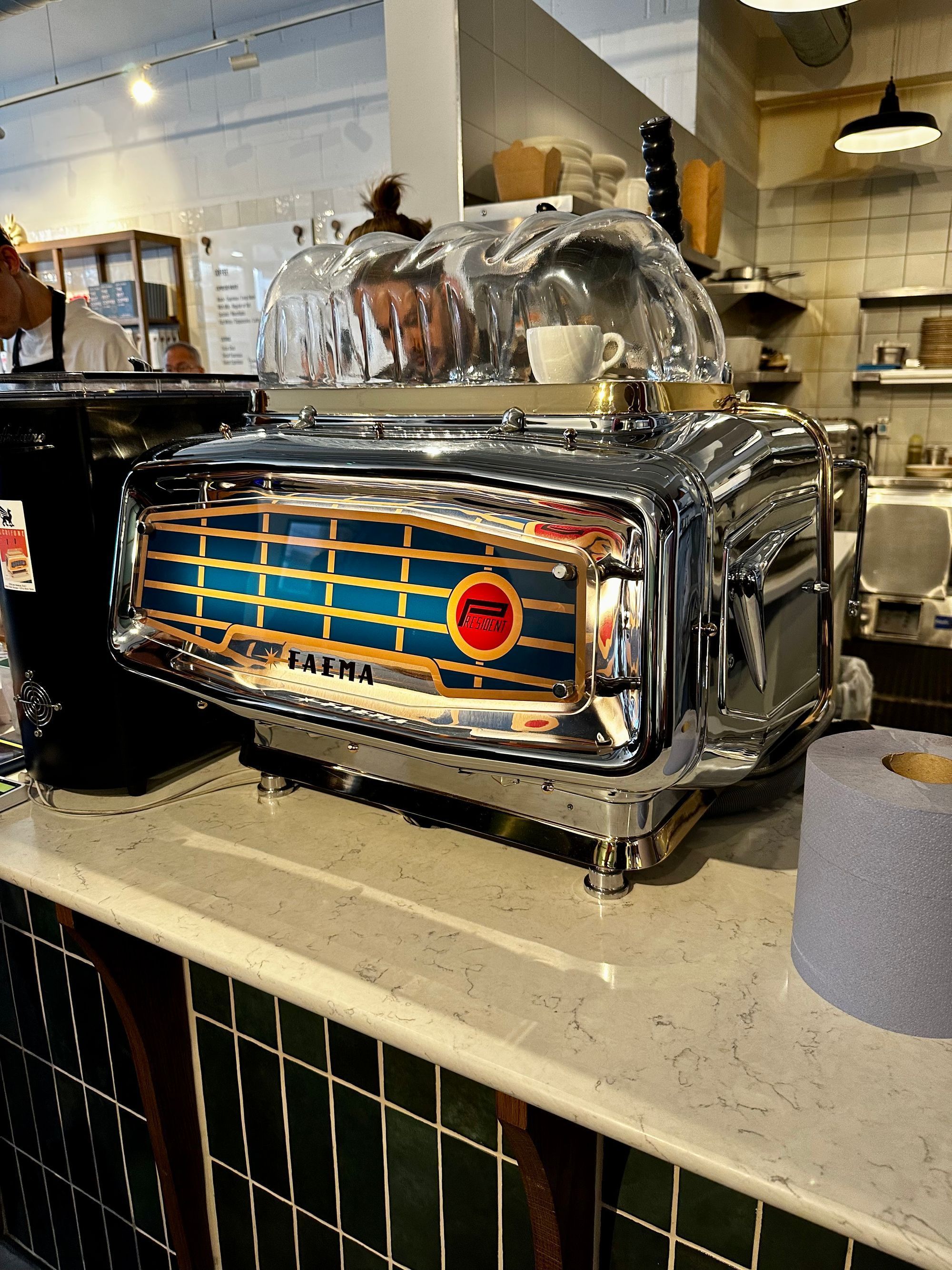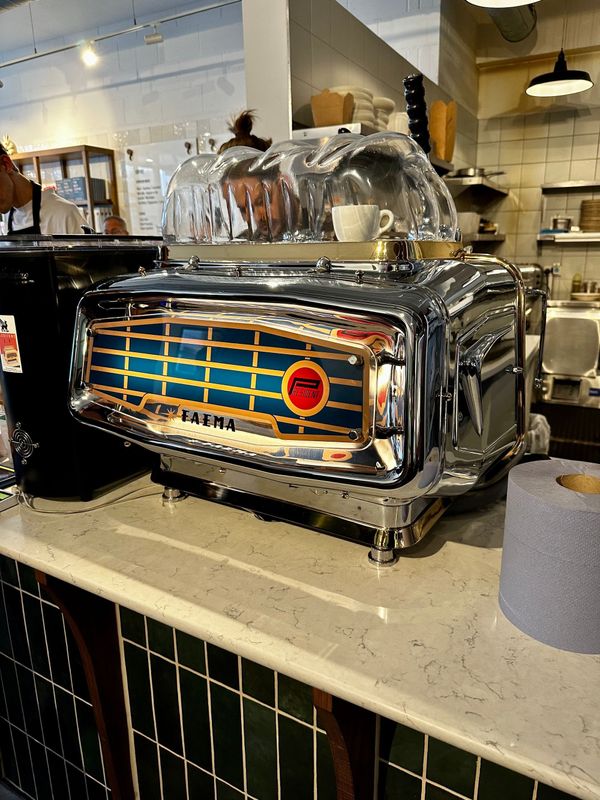 Prufrock is a coffee shop based in Leather Lane, not too far from Farringdon station. They primarily serve coffee from Square Mile roasters, as well as serving guest roasts from a selection of roasters. I visited with my friend, Inès, on Saturday 24th September.
Entering their shop, you're greeted with a very light and spacious interior that manages to fit a lot of people. The interior is minimal but functional, and uses some warm colours and wooden floors to give the space a bit more of a warm feeling. Despite this, there was a queue forming already, a testament to how many people wanted to come and try their limited edition experience...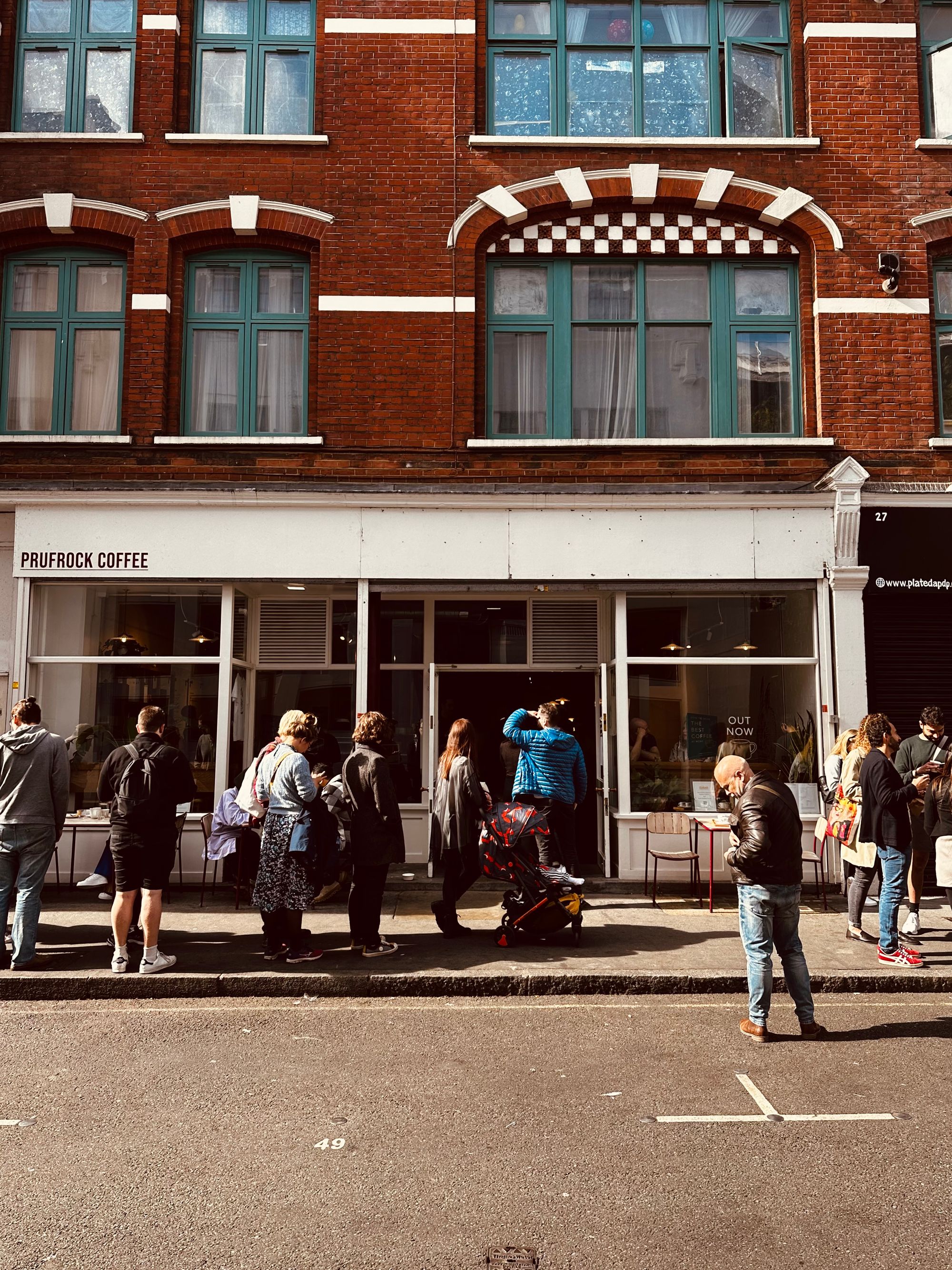 The aforementioned Square Mile Roasters is part founded by coffee YouTuber (and barista world champion) James Hoffmann. He recently bought and refurbished a vintage espresso machine, a gorgeous FAEMA President from 1958. This machine has been set up in Prufrock temporarily for a few weeks, serving a bespoke espresso blend that's been created to emulate the classic Italian style of espresso (they call it Il Grifone).
You can order this espresso alone, or you can order it on a tray alongside a shot of Square Mile's Red Brick espresso, pulled from the modern Black Eagle machine. The staff give you the option of telling you which is which, or they'll let you work it out for yourself. The tray contains a QR code which you can scan and find out more about the coffees as well as provide feedback on which one you prefer and your tasting notes. Good nerdy coffee fun!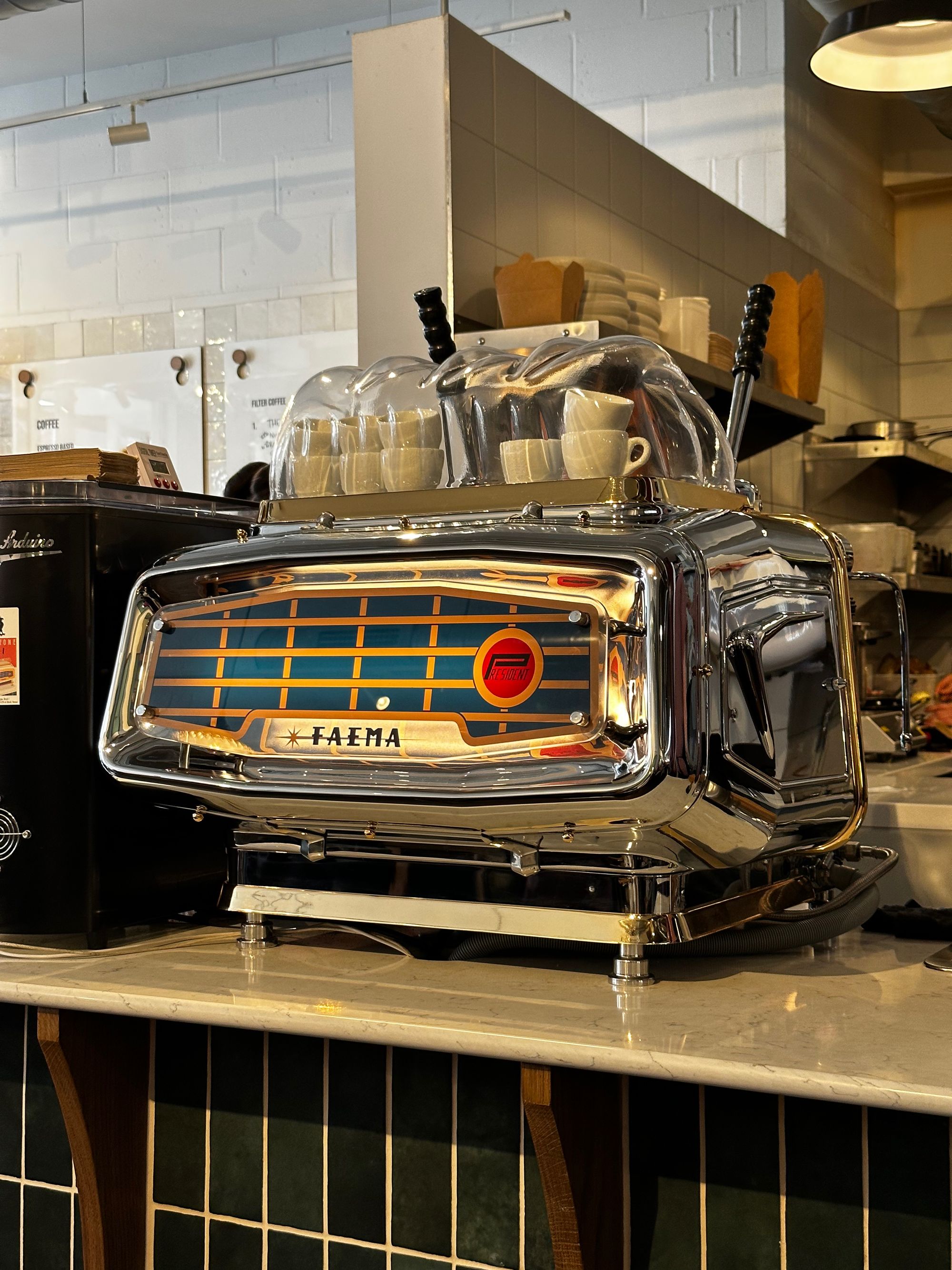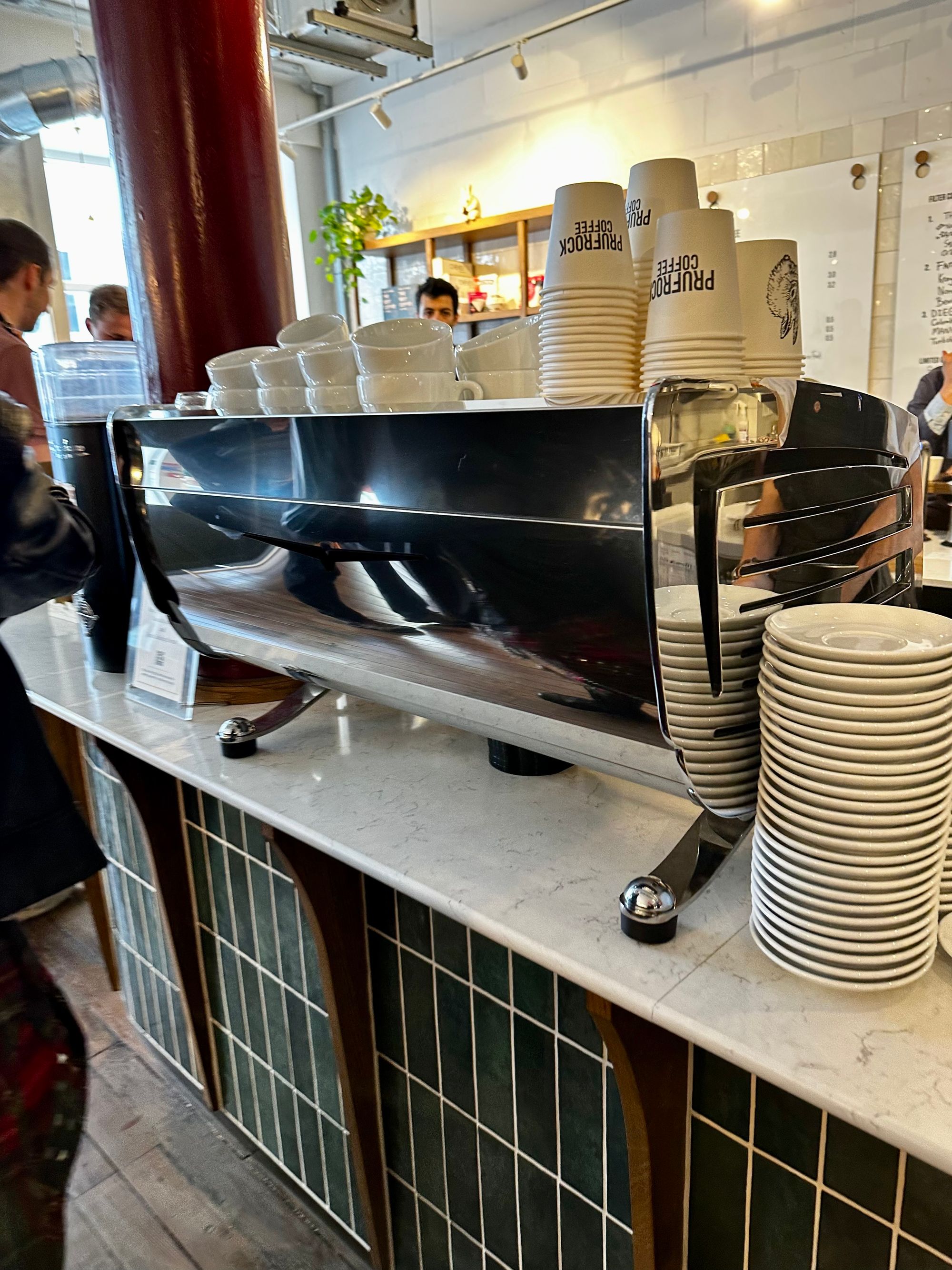 The FAEMA is a thing of beauty. You can find out more about it on James' follow up YouTube video too. It's a manual, lever machine and baristas even have to manage the boiler pressure themselves. The back panel design is so gorgeous and vibrant, and sits in stark contrast to the sleek and metallic Black Eagle sitting next to it.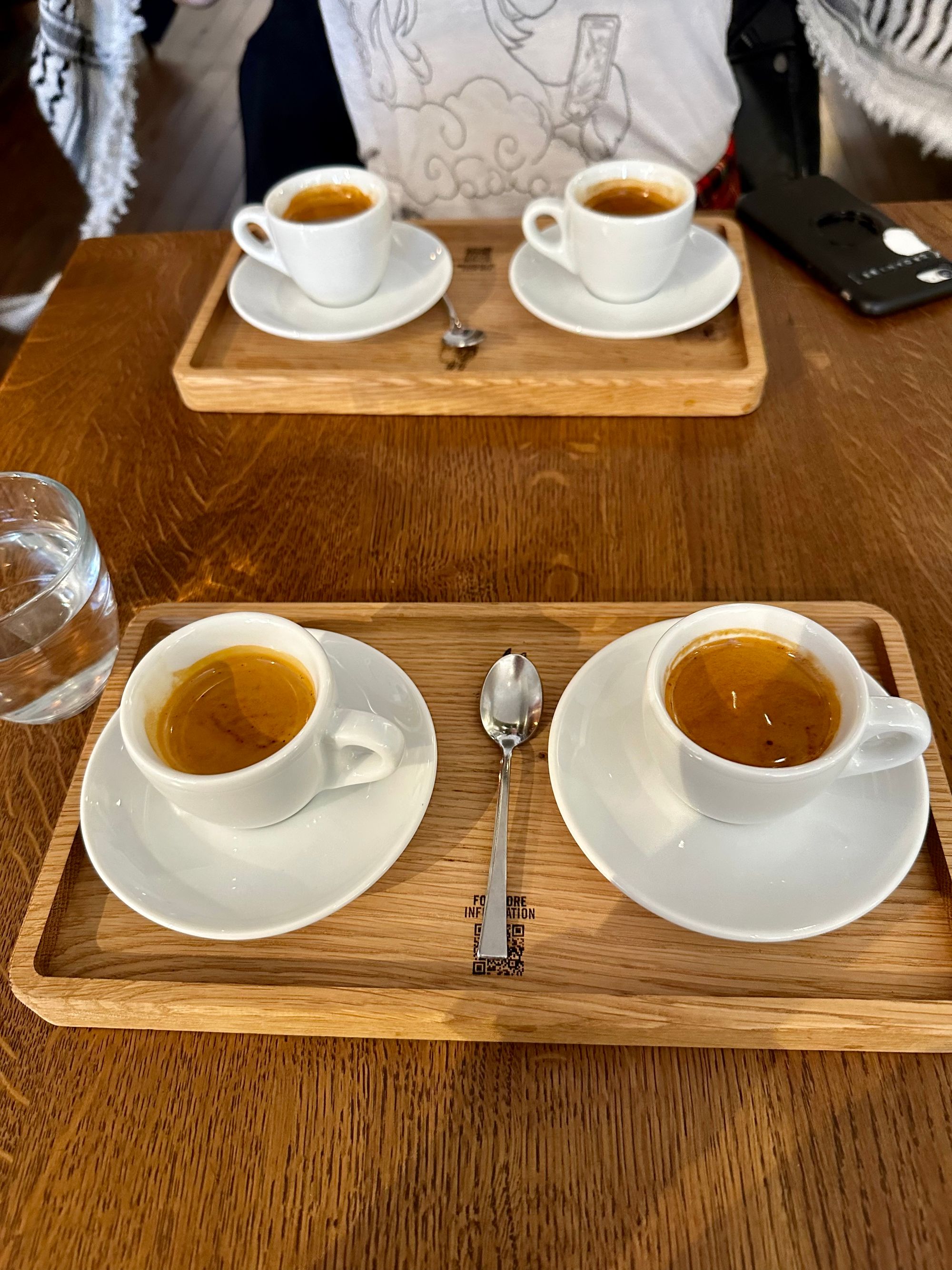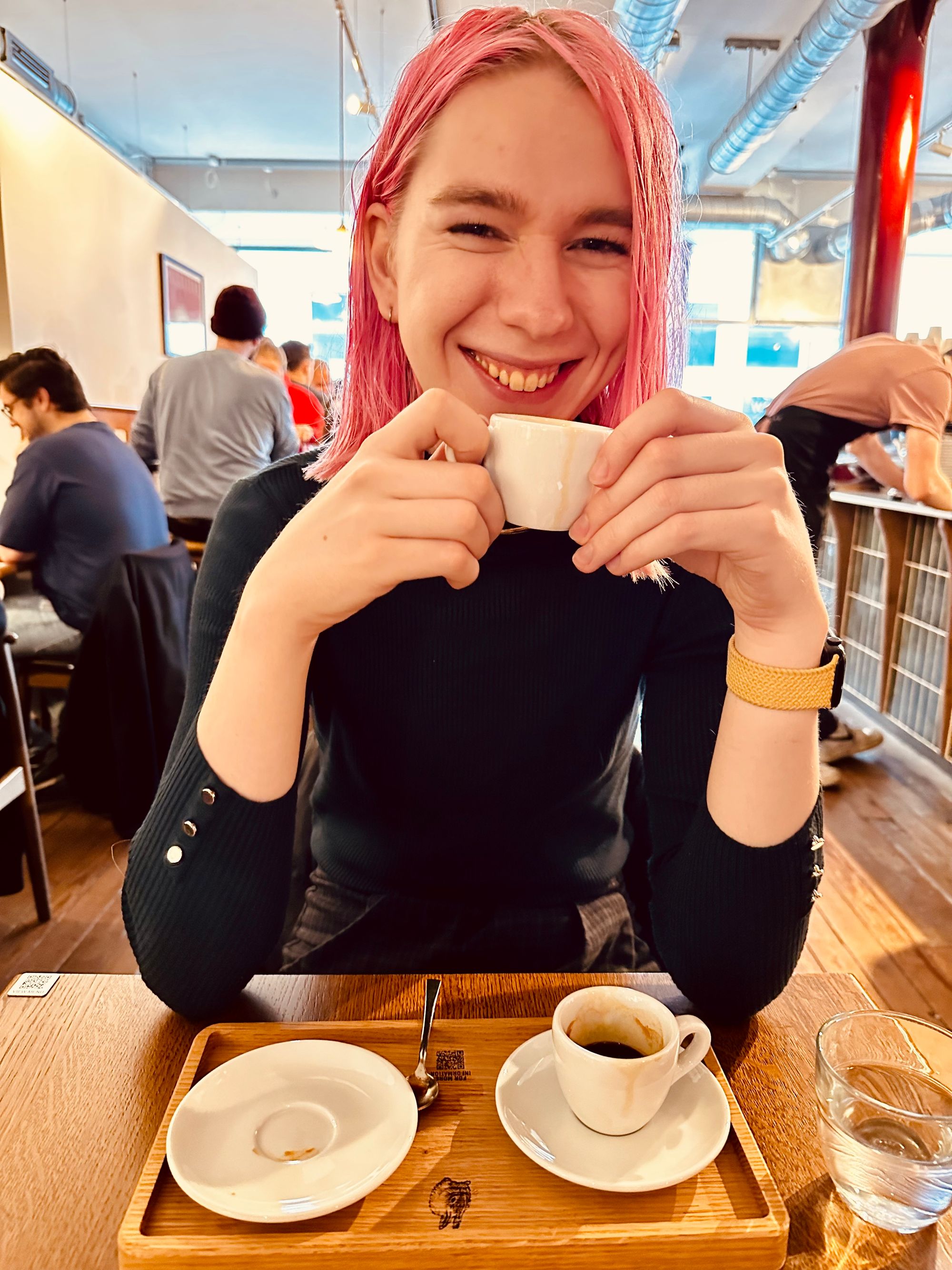 The first couple of sips of the old school espresso were surprising. I was expecting a very harsh, strong flavour that I'm used to with Italian style espresso. But whilst it did taste a lot bolder and more bitter than third wave espresso, it was deliciously complex and even had a sweetness to it. As the shot cooled a little, I was picking up almond and cherry notes. It was a genuine surprise to get this complexity from this kind of espresso.
Tasting the new school espresso side by side, the acidity was almost a bit shocking. The taste was bright, zesty and really quite sweet, and this was way more apparent when stood up next to the darker, Italian style blend. I'm a big fan of the Red Brick espresso but I did notice that this brightness faded as the shot cooled a little, and tasted better while it was still very hot, whereas the Il Grifone got more complex and interesting.
But was this enough to sway me away from acidic, lighter roasts? At the end of the day, I still prefer the modern style, third wave espresso over the classic Italian style. But this experience of drinking espresso from a really cool vintage machine was really special, and importantly, me and Inès had a lot of fun geeking out over coffee. This was ultimately the best part of the experience!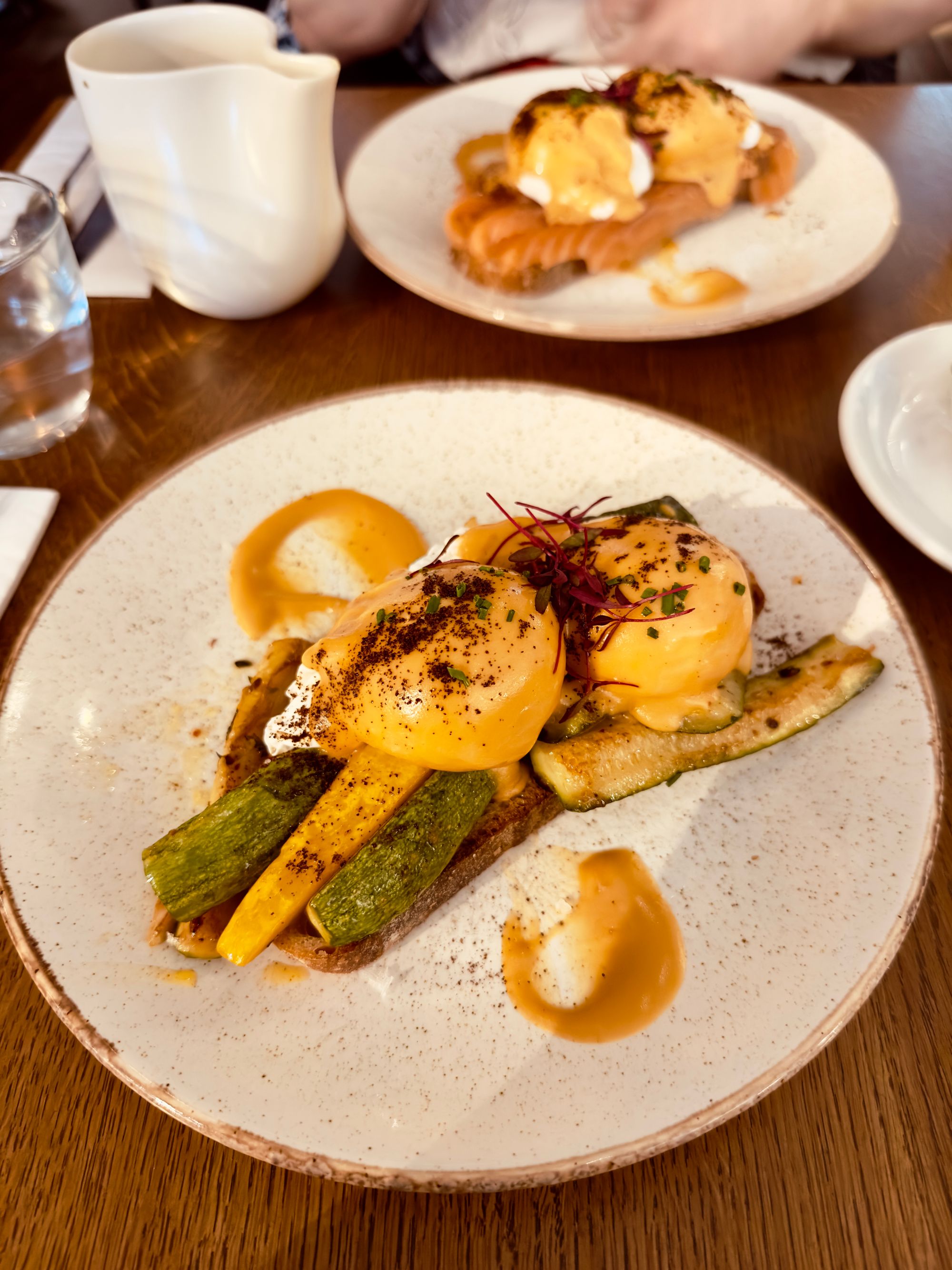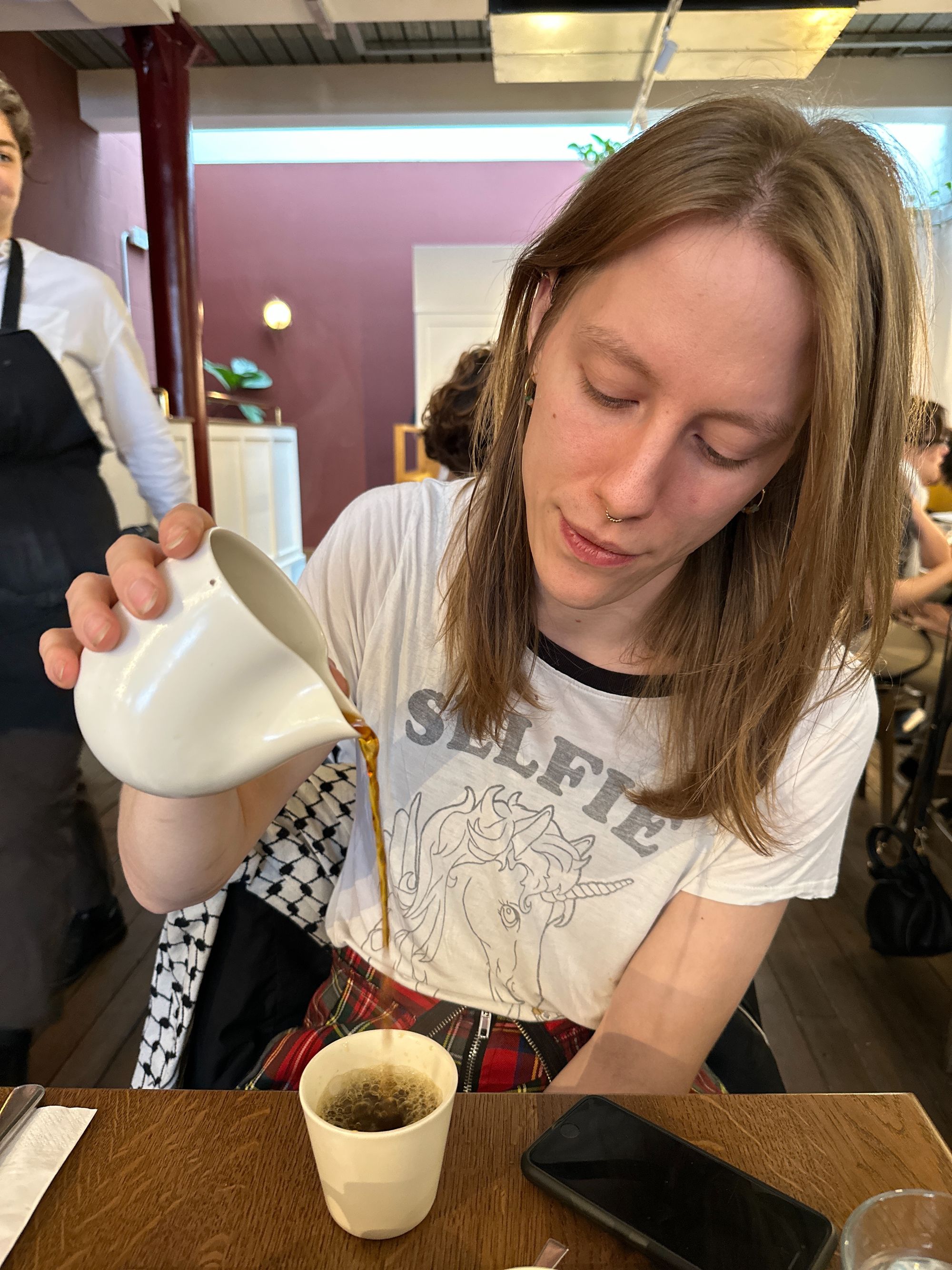 While we were there we tried Prufrock's eggs benedict ("eggs benny", as they call it), which they spin by infusing the hollandaise sauce with espresso. It is a really fun twist to the classic dish, and my veggie version (with courgette) was really creamy and lovely. The filter coffee, a washed Kenyan, still tasted sweet and fruity even after chugging two shots of strong and bold espresso.
The moral of this adventure? Vintage espresso machines are gorgeous and incredibly pretty, and still hold up well to the modern machines of today. And drinking two shots of espresso after being exclusively decaf for a month will really take you to another level.